Color Selection Advice
Have you ever explored the vast color ranges from light to dark, contrasts such as warm and cool colors, the various shades of grays, neutrals, earth tones and more? Perhaps search for articles and photos featuring ways to select paint colors, and social media sites like Pinterest or Instagram, OR simply start with colors you love.
There are so many great paint colors, paint color selections, and paint color combinations! We want customers and everyone to like and feel happy about the paint color choices in all rooms of the house, and even in business and office spaces. Try to have fun with whatever amount of time and effort you feel like putting into selecting paint colors.
For Boomerang Badger Painting customers, I occasionally recommend working with a paint color consultant.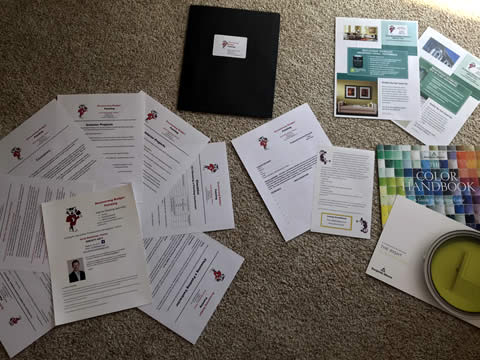 ---
A color consultation will examine various factors to consider when selecting colors for a painting project, such as:
➤ Natural lighting that comes in at the various times of day throughout various areas and rooms
➤ Electric lighting that shines on various areas, angles, and spaces
➤ Your flooring, furniture, and belongings
➤ Styles, trends, and more
Color consultation services are available at local paint stores and by appointment at your home or property. The feedback I have received from many Boomerang Badger Painting customers is great, and after the painting is done I consistently hear praises about the color consultation for the great results of the color selections.
As your painter and service provider, I can offer advice and will provide a job folder with info about paint color selections and links for paint color consultation help available.
---
Here are a couple options/suggestions:
Think of how you can improve the look and feel of your home by working with an experienced color consultant and designer one-on-one. You can transform things without spending a fortune. I'm an experienced color consultant with decades of professional experience. I know how best to help you customize the colors of your home. Together we can choose the colors that make your home more welcoming, cozier – just a more comfortable, nurturing place for you and your family. You can choose the colors that make you happy, peaceful, energetic: whatever it is you want to express about your own personal space. I can guide you on:
• Lighting
• Wall coverings
• Paint
• Window treatments like drapes and blinds
• Carpet colors
• Furniture styles
• The exterior of your house, including doors, shutters, and framework
My clients love working with me because I'm enthusiastic, easy to talk to, and because I know how to make a dramatic change for a modest budget. I have lots of tricks.
Call me and I will bring the colors you love into your home.
Wendy Broadhead, Benjamin Moore Paint Store, Email: , Phone: (608) 235-8623